So now that I've caught you all up on all the house-buying and moving (and pregnancy) stuff, I figure I can write about some other fun things that happened this spring!
Let me start this one by saying that I
know
I drag my feet with blogging, but it has
never
taken me this long to write a recap! I'll chalk it up to the fact that this race was only 8 days after we moved - I was lucky I even had race gear unpacked!
This half marathon came about
after
I found out I was pregnant in December. I honestly really wanted to tackle the Hillstriders March Madness Half Marathon in Cary, IL (very close to where I lived), but it's labeled as one of the toughest HM's in the state, if not the toughest, and I knew that wouldn't be happening with a baby on board at 4+ months pregnant. My heart rate wouldn't be able to stand it. So I started looking for an option in it's place, and stumbled upon the giant penny medal of the Lincoln Presidential Half in Springfield!
It just so happened that as I stumbled upon this race my bestie Steffi (you'll remember her from last year's
Shamrock Shuffle
and
Hot Chocolate
races) asked if I was down to do the Shamrock Shuffle again, and I said, "Uhh, how about this half marathon instead?" To be honest, I'd kind of had it with
huge
Chicago races and was looking for something more the flavor of the
Schaumburg Turkey Trot
to start up my spring season.
Bless her, she agreed.
And It would be her FIRST half!!
(It's also really fun to note that, technically, this was
The Unborn's
very first race too!)
Race Details and Swag
The race took place April 1st, and we registered far enough in advance that registration was very cheap. I actually can't remember what I paid, but it was either $50 or $60 which is really reasonable for a half. The 'swag' was a gender specific, long sleeve athletic tshirt with good ol' Honest Abe's face on it. The shirt, while super cute, was pretty short on me because I have a long torso...should have gotten the men's shirt!
Training
To be honest, because of my miscarriage my training was almost non-existent. Fun fact I learned through everything is that once you get pregnant and the pregnancy ends, no matter how long you wre pregnant for it takes about 6 weeks for your hormones to figure out wtf is happening. So I spent a lot of time grumpy, sad, angry, hungry, tired, etc. I ran when I had the energy, but I never ran more than 6 miles during my "training". I was still swimming and biking (and lifting) to prepare for my tri, but I was honestly having a hard time committing to anything, so I went into the race fairly undertrained.
I'm not proud of it, but there you go.
Logistics
Anyways...logistically this one was fairly easy to plan...I texted Papa Bender with the idea of he and Mama Bender putting us up for the night, and they were more than happy to oblige (they live in a town right next to Springfield). Though I left it totally up to him, I kind of knew Papa Bender would agree to take us to the race and spectate!
Steffi and I rode down to Springfield the day before the race (Friday) and hit up the expo briefly before meeting Mama and Papa Bender for dinner at a pizza place (where else??). The expo and packet pickup were at the President Lincoln Hotel in downtown Springfield. Pickup was
very
small, and we arrived about 30 minutes before close so there wasn't much to see and some of the vendors had already left. We didn't mind though because we were really hungry and ready for dinner. So off we went for pizza and salad!
(PS, I only took one picture in the hotel during packet pick up...this was the only Abe-y thing we got close to.)
We spent that night at the Benders, which was a nice because it meant we had separate rooms and beds, a shower to utilize after the race with no time crunch, and an easy morning the day of the race. Also fun was, while touring their "new" house, I noticed Liberty Falls!
Papa Bender is an architect and bought this cute set of miniature buildings once upon a time at an antique store...what he didn't know is the story behind them! Liberty Falls was sold as a collection from Carson's at Christmas-time in the 90s. My mom has a large collection of them (all of the ones below, plus another 15 or so) and setting up Liberty Falls was always one of my favorite things to do when decorating for Christmas.
So I explained all of this to them, gave names to a few of the townspeople, and generally blew them away with my random knowledge ;)
The Benders also have this beautiful stained glass window that I couldn't pass up the opportunity to take a picture of:
Race Day
Morning came and we were up and at 'em, and gave ourselves about 30 minutes to drive into Springfield and line up for the race. We also had a few minutes to snag some pictures with Abe!
We were out in full force for The Left, sporting our Notorious RBG shirts. PERFECT choice for the weather that day!
Let's please all look at these words as an indication for our present situation. A patient confidence in the justice of the people...to come out on the right side of history again, in the same battle Abraham Lincoln led a century and a half ago.
The race started just before the Lincoln Presidential Library, and the crowd was fairly small compared to the races I did last year. There were no start corrals, so we just seeded ourselves into the group at a decent spot. The prerace show included the national anthem, a 21 gun salute with
muskets!!!
(which was unexpected and pretty cool), and a speech by Abraham Lincoln himself! I wish I'd known about the speech because it was pretty funny and clever and I could have recorded it. Alas, I did not.
After a short count down, we were off!
The first Lincoln site we passed - the Lincoln Presidential Library!
The second landmark we passed was Lincoln's Springfield home, about a mile into the run. We actually didn't know if it was this house or the one on the other side of the road - we were confused because there was an armed guard outside of the other one, but not this one. When I saw the photographer I thought it had to be this one...but no one around us knew either!
Turns out it was this one.
Abraham Lincoln's Springfield home! I snagged this from the race photos because it was a funny picture :P
Heading into the second mile was my favorite stretch of the race, but I don't have a picture of it because it was so sudden and breathtaking and I just wanted to enjoy it. After Lincoln's house you meander through a neighborhood, then turn a corner and BAM! The stretch in front of you leads you straight up to the Illinois State Capital building, head on.
It was such a great view, and I told Steffi we should go there at the end of the race for pictures (which we did!).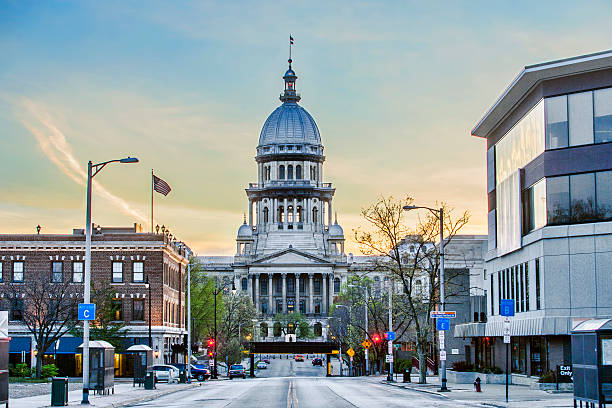 PS...not my photo.
So...to be totally and completely honest, I have no idea where the other monuments/points of interest we ran by after that were. I don't even know if there were any before Lincoln's tomb! My only real critique of the race is that they should have put some signs up to alert runners to the fact that they were going past something historical or Lincoln related.
What I can say is that we had a blast running through the various neighbor hoods. There were so many people who came out and sat on their lawns to cheer on runners. People with signs and cowbells, little kids in jackets and blankets - it was really cool to see that! I asked one of the kids if watching us was better than cartoons...from the look he gave me I think not, lol.
Also totally random, we saw a woman wearing a shirt that had a map of the US on it with a number of the states colored in...she's trying to run a half in every state! We chatted with her for a few minutes about it and then went our separate ways!
We encountered a few hills through the race, but nothing horrendous. I was actually surprised at how good I felt the whole time. Since I needed to prepare for Ragnar I told Steffi I was going to run all the hills as part of my "training" (taking advantage of the fact that there were hills, unlike any of my normal runs), and I did that. But mostly, the race was flat.
We finally got to Oak Ridge Cemetary, about nine miles into the run. This is where Lincoln is buried, and where Lincoln's tomb is! It also had hills!
This was the hill we walked up across from the tomb. We walked because I wanted to snag some pictures of the tomb as well as a selfie or two of us. PS that woman in the orange jacket was hilarious! She joked with us the whole way.
And here it is! President Lincoln's tomb! I wish it hadn't been so far away.
I wanted to go rub Lincoln's schnoz for good luck
(you should really click that link). Maybe I should have thrown a penny towards it instead? (Really, go read that link.)
You can almost see how shiny Lincoln's nose is in this! I really missed my shot there.
I got our selfies too...even though the monument isn't really visable. Whoops.
The next series of posts were taken by the race photographer, who we had NO IDEA was there. Until we did. Please, scroll on, and have yourself the same laugh I did the moment I realized we'd been caught. Which ps, he caught.
Hey...what's that guy with the camera doing...
Oh man I bet we look stupid haha.
The next few miles were pretty uneventful (minus a HUGE hill) and we were starting to feel it. After going up a hill and banking a curve though, there was an ANGELIC family handing out freeze pops from their yellow VW bug! It was the coldest, most refreshing, and most welcome treat ever. We slurped our little popsicles and that gave us energy for the last two miles.
Right around mile 12 I saw someone familiar on the side of the road...it was Papa Bender! He'd done his three mile run, and saved a mile to run "with" us at the end!
As we came up to the finish I did something really uncharacteristic for me - I pulled out my phone and called Anthony. He'd really wanted to be at the race to cheer us on, but because we got Token the week before he had to stay home with our new puppy. I wanted him to still "be at the finish" with me, and calling him was the best thing I could think of. The race photographer caught me as I ran in, phone in hand!
Was the giant penny medal worth it? I think so!
We grabbed some gatorade and bananas but didn't take part in the rest of the post race food (Krispy Kremes and chocolate milk). By the time we were finished they were starting to take down the post race stuff, which kind of sucked, but we didn't really care since we weren't headed that way anyways.
I asked Papa Bender how far it was to the Capitol building so we could take some pictures there, and it was only a few blocks so off we went to
This store, right across from the library, used to be the law offices Lincoln worked it!
A tiny sign confirming that these were law offices once, lol.
The rest of these pictures are of the Capitol, and our post race pictures with another Lincoln statue!
I did my best to grab a shot of the Capitol as we saw it during the race!
We ended our race festivities with showers back at the Benders, then lunch out. We had planned a more lengthy weekend, but having just moved I wanted to get back home and settle in some more, so we opted to make the three hour drive home the same day. It made for a pretty perfect race weekend, and it was nice to get away from northern Illinois for a bit!
So there you have it. The Lincoln Presidential half, only 4ish+ months late :P
And I'll leave you with this...a race appropriate shirt we saw right when we crossed the finish line. I see this now, months after the race, and it's no longer about the race, but rather serves as a constant metaphor for our country...
x